About Michele
The Short Version
Michele Tway is a mixed media and fiber artist who combines her love of sewing, beading and crochet to create bird sculptures.
She is a fourth generation fiber artist and has been crocheting and embroidering since childhood. Her education and work experience in the information technology field have shaped many of her creative design and problem-solving skills.
She spends most of her time making her bird sculptures but also makes crocheted earrings from her own original designs. Her earrings are exclusively available at Gallery of The Mountains in nearby Asheville, NC.
She currently lives in Hendersonville, NC, and has been a member of the Southern Highland Craft Guild since 2021.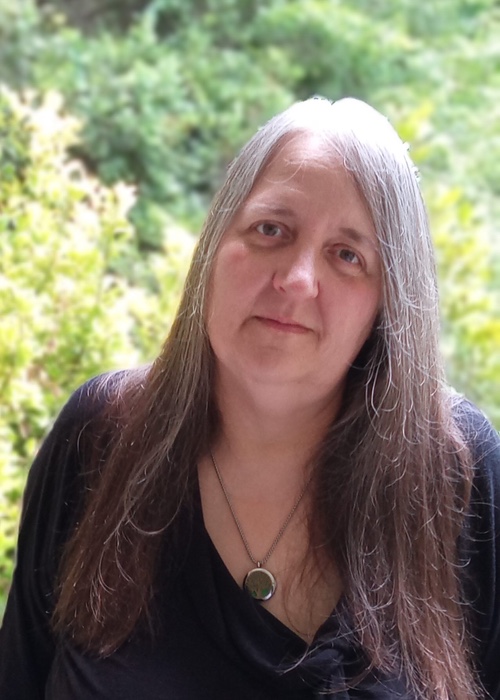 The Path to Becoming an Artist
Family Traditions
Growing up, Michele Tway was surrounded by fiber artists. She's the fourth generation in her family to wield a crochet hook. The third to embroider and sew; the second to bead and quilt. The ladies were master technicians. Her grandfather rarely worked from a pattern, preferring to create his own.
Michele liked making things too. But, her first material of choice was mud. She was fascinated how loose dirt, when blended with water and allowed to dry, became solid and hard.
Ironically, Michele almost flunked kindergarten because she couldn't tie the laces of her mud-stained shoes. But by nine, she was winning ribbons at the state fair for her crochet and needlepoint and no longer tracking mud into the house.
The Long Detour
So, what did Michele want to be when she grew up? A doctor or a chemist. But, fate introduced her to computer science and it was love at first keystroke.
She loved the problem solving and creative aspects of writing computer code, software training manuals and websites. They all start with a blank piece of paper or an empty computer screen. But, it became more and more clear that while she was helping others build and grow their dream, she wasn't really living hers.
Igniting the Spark & Populating a Zoo
A sweet little bird pattern would ignite the initial spark and change everything.
It was 2011. Michele was still using art as more of a respite than a destination.
Tania's little stuffed bird, with its wire legs, was different from anything Michele had made before. She'd been making crocheted dolls and teddy bears off and on since 1989; but, sewing something with gussets was entirely new for her.
She began learning how shapes were formed and how changing the gusset could transform a dog into a bear or something that looked like neither. It didn't take long before she was redesigning patterns and creating her own. Her dolls and teddy bears were joined by hand sewn bears, cats, dogs, elephants, a raccoon, a giraffe, a deer and a number of goats – a veritable zoo.
The First & Second Generation of Birds
Michele was writing – for clients and her own websites. She was designing and published some crochet patterns and sewing projects of her own. But, Tania's little bird, with its fat and sassy felt body and wire legs, continued to work its magic.
Several years later, around 2016, Michele made her first birds. They incorporated so much of what she loved – crocheting, sewing and sculptural forms. They were small. The legs were flimsy. The eyes and beaks weren't quite right. Her family loved them; but Michele didn't, so she shelved them for several years.
As she explains it, "They haunted me. Mom had them all over her house. They mocked me from her desk. They challenged me from the china cabinet. While I spent several years working on the Internet, crocheting earrings and sewing tiny teddy bears, those birds watched me. They were patient. They seemed to know I would be back."
Michele's second generation of birds were bigger and more substantial. Again, everyone loved them; except her. The eyes were much improved but the legs still weren't right. The beaks would have to be totally re-engineered – again.
Signature & Branding
One of the last decisions to be made was how to add some sort of maker's mark or brand to each of her birds. She wanted something that would be easily seen and consistently placed. It also had to be something small and unobtrusive. After much searching, Michele landed upon photo resistors. They're small, they have a tie to her computer science background and looked like a series of little m's. Perfect! They can be somewhat hidden on the underside of the beaks and add a little something extra to her logo too.

Ready for Flight
It would take over a year for Michele to "get the legs right" and refine the way she beaded the eyes. But, finally, 8 years after beginning her bird-making journey, Michele's birds were ready for flight.
A pair of artist friends encouraged Michele to apply to the Southern Highland Craft Guild. It was the fall of 2019. She opted to wait and further refine her techniques. You can probably guess what happened next. The world kinda shut down for a while. She applied in the fall of 2020 and passed the image jury. It would be another year before an object jury was held. Three weeks later she was invited to join the Guild.
Today, Michele still maintains several websites and crochets earrings for Gallery of The Mountains in nearby Asheville, NC. But, she spends most of her time creating her birds.
She's still Michele, the computer and math geek. Her projects still begin with a blank sheet of paper. But, now, she's Michele Tway; mixed media artist, creator of birds and Southern Highland Craft Guild Member.